Matthew Kelley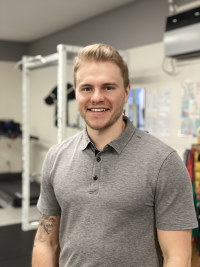 Physiotherapist
MPT
Matt has always had a keen interest in sport, exercise, and the human body which led him to his career in Physical Therapy. He obtained a Bachelor of Science degree in Kinesiology with Great Distinction in 2017 and then a Masters Degree in Physical Therapy in 2019.
Matt is a movement professional that provides people with the knowledge and tools to move, work, and perform better. Matt utilizes manual therapy, education, and therapeutic and functional exercise prescription to help people get back to doing what they love. Matt is committed to lifelong learning and will be looking to advance his skills in orthopaedic manual practices, sport physiotherapy, and dry needling.
Outside of the clinic Matt enjoys being outdoors, travelling, spending time with his family and friends, and playing various sports such as hockey, golf, and basketball.
Golf specific physical assessments by TPI certified Physiotherapist Matthew Kelley.
What is TPI? "Titleist Performance Institute (TPI) is the world's leading educational organization dedicated to the study of how the human body functions in relation to the golf swing. Since its inception in 2003, TPI has studied thousands of golfers ranging from the top professional Tour players to weekend enthusiasts. An incredible amount of data on players of all shapes, sizes, ages, and fitness levels has been gathered during this time. Using this data, TPI discovered how a properly functioning body allows a player to swing a golf club in the most efficient way possible. Additionally, TPI has analyzed how physical limitations in a player's body can adversely affect the golf swing and potentially lead to injury" (rilyTPI.com)
Who is TPI Golf physiotherapy for? If you want to reduce pain and stiffness, hit the ball farther, or just swing more freely, then TPI physiotherapy is for you. Golf physiotherapy sessions are for golfers of all ages and abilities, from beginners to experienced golfers. We feel all golfers can benefit from a TPI session.
How does a TPI Golf Physiotherapy session work? The first appointment will start by going over a medical history, any symptoms you may be experiencing and information about your current golf game. Next, you will go through a golf specific physical assessment and movement screen. This is critical in Understanding the body swing connection and how your physical capabilities may be Affecting your golf game. Lastly, you will be provided with personalized exercise program and treatment plan based on the assessment findings.