Rachel Mamer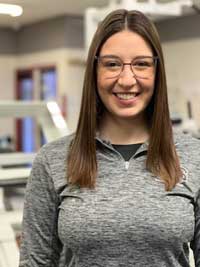 Physiotherapist
MPT
Rachel attended the University of Saskatchewan, completing her Bachelor of Science in Kinesiology with Great Distinction in 2018, and her Masters of Physical Therapy in 2021.
Rachel's interest in movement started at a young age as she participated in may sports and progressed into an appreciation for rehabilitation of injury that often accompany sport. She is also passionate about sideline sports coverage and has received her Sport First Responder certification. Some of the sports she has covered include football, basketball, marathons, volleyball, and soccer.
Rachel is a movement professional who will work with clients to determine their movement goals, and help them to continue to perform activities whether they are work or recreational in nature. Through education, manual therapy, therapeutic and functional exercise prescription, Rachel will help clients get back to feeling their best.
When she isn't in the clinic, Rachel enjoys spending time at the lake, with family, reading, and taking in sporting events. She can also be found playing various sports such as volleyball, basketball, badminton, curling, and softball.